Natural Ingredients To Whiten Your Teeth
Published:June 30th, 2011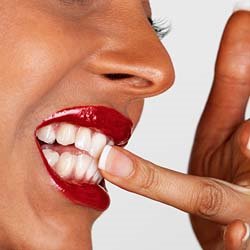 The increasing emphasis on dental aesthetics and continuous campaign for cosmetics through organic means has made teeth whitening via natural ingredients an important issue. Along with these is the increase of information on how one could whiten teeth without processed chemicals. However, there are few who provide acceptable and legitimate support to their claims. This articles aims to provide a solid list and explanation behind the list on the different natural or organic ingredients you can use to whiten your teeth.
1. Bicarbonate or Baking Soda
Kleber CJ, Moore MH, and Nelson BJ of Health Science Research Center, Indiana University-Purdue University, Fort Wayne, USA conducted a study to test the effects of Sodium Bicarbonate on teeth whitening and compared it to other substances that don't used sodium Bicarbonate. A total of 12 teeth were put to test. Sodium Bicarbonate was proven to be more effective in removing yellow-blue hue stains. However, whitening started becoming noticeable only after a considerable amount of toothbrushing. Commercial dental products using Sodium Bicarbonate were more effective in teeth whitening than those that don't sodium Bicarbonate. Further, the greater the concentration of Sodium Bicarbonate, the more effective the product is .
2. Lemon Peel and Lemon Juice
Lemon has been used as a cleaning agent by mothers all over the world. Its stain removing ability seems to naturally make it a teeth whitening solution. Many recommend directly rubbing the inside of the lemon peel on your teeth. However, "The Book of Herbal Wisdom: Using Plants as Medicines" states that a lemon peel contains high levels of acid which can attack the calcium on the enamel of your teeth. This will make you vulnerable to tooth decay. What doctor Oz recommends is to control you teeth's exposure to lemon juice by mixing baking soda (Sodium Bicarbonate) with the juice of a freshly squeezed lemon. Then wipe off the saliva from your teeth before brushing on the mixture for no longer than a minute. Wash it off with a toothbrush and traditional toothpaste .
3. Strawberry
Strawberry has malic acid. This is the same ingredient being used by many products to act as astringent. Strawberry has a lot malic acid. It can serve as a tooth cleanser to remove stains from coffee, wine and others. It will not reverse the colour of your teeth, take note. It will only help avoid worsening or deteriorating teeth colour or maintain its current colour. Adina Carrel, DMD, a dentist in a private practice at Manhattan Dental Arts in New York, warns that it also has some acid and should be used sparingly. You can mash strawberries (you can also add some baking soda) and use a toothbrush to spread throughout your teeth. Leave it on for five minutes before washing it off with regular toothpaste and toothbrush.
4. Hydrogen Peroxide
Hydrogen Peroxide is a clear liquid that is a little stickier than water. It's a common home product used as a disinfectant, antiseptic, and oxidizer. This is popularly known as a teeth whitener too but it is not as easy to use. Dr. Joe Neely of Barton Oaks Dental Group and Dr. Martin Spiller both explained that you need a stronger solution, about 30%, stronger than what is commonly used in the house. Not only that, you need to come up with a way on how to keep the solution on your teeth longer for it to work. However, keep it on your teeth long and it could burn your gums. Thus, it should be administered by a dentist .
Remember that you should still consult your dentist when attempting any product to whiten your teeth. Though the recommendations above are safe, no one knows your teeth better than your dentist.
---