Scientists Link Oral Bacteria to Increased Risk of Pneumonia
Published:January 4th, 2012
Winter is well underway and these months herald the start of the cold and flu season, but vulnerable groups of people such as the elderly and the very young are also at risk of developing pneumonia. A new study conducted at Yale University School of Medicine has linked oral bacteria to an increased risk of pneumonia, underlining the importance of maintaining good oral health in relation to good general health.
The study followed 37 patients throughout the course of one month and found those patients who were on ventilators and who were suffering from pneumonia had shown a substantial increase in the numbers of bacteria in their mouths before developing the condition. The study was led by Dr Samit Joshi who hopes their findings will improve the way pneumonia is prevented in the future through maintaining bacteria present in the mouth. His research was presented at the Infectious Diseases Society of America annual meeting in Boston.
Pneumonia is estimated to affect more than 620,000 people throughout the United Kingdom, and 5% of those suffering from pneumonia will not recover. In 2009 25,073 people died of pneumonia in England. Research has suggested that people suffering from gum disease which creates deep pockets around the teeth may be at higher risk of dying from pneumonia. At the moment the exact link between pneumonia and oral health isn't yet known as further research is required, but it isn't the first time that oral health has been linked to respiratory diseases. It is thought that many bacterial chest infections are caused by people breathing in fine droplets through the mouth and throat, into the lungs. The bacteria can cause infections or worsen existing conditions.
The Chief Executive of the British Dental Health Foundation, Dr Nigel Carter has pointed out that good oral health care can be very basic and can really help prevent illnesses, especially as the links between gum disease and overall good health are very well documented. A good basic oral health regime begins with brushing your teeth thoroughly for 2 minutes twice a day, and it's important not to skip the daily flossing. If you don't like flossing then try using interdental brushes. Making sure you don't have too many sugary snacks in between meals can also help. In addition you should be visiting the dentist regularly every six months as they will be able to pick up on any early signs of gum disease. If you notice your gums are bleeding regularly or if you feel you have bad breath then book an appointment to see your dentist as soon as possible.
Perhaps your perhaps your New Year's resolution is to get fit or lose weight, but if you haven't been looking after your teeth as well as you should have then why not make another resolution to improve your oral health? This latest piece of research is just further proof of the link between good general health and having a healthy mouth.
About the author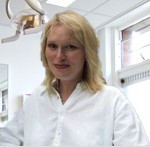 Alison, is a UK born and educated dental professional with over 25 years experience.
---