Mint Cosmetics Review
Mint Cosmetics is a new teeth whitening kit which uses a unique Hydrogen Peroxide formula which promises fast and effective teeth whitening from the comfort of your own home.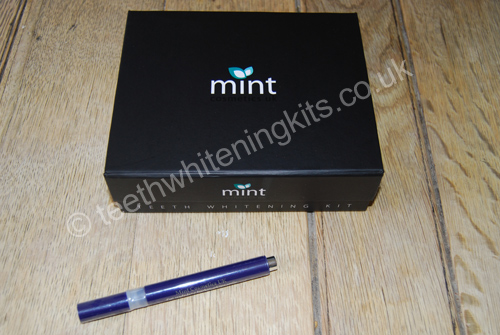 What Do You Get In The Kit?
Mint Cosmetics sent us a deluxe kit so this is what we will use for this review, but Mint cosmetics currently have two versions of their kit:
The standard version contains:
4X 6% Hydrogen Peroxide applicators (3ml) (enough for 48 applications)
2 customisable mouth trays (plus one spare)
Storage case
Colour instruction manual and DVD
The deluxe version contains the same items as the standard version plus:
1X 18% Carbamide Peroxide teeth whitening pen (enough for 15 applications)

How Does The Mint Cosmetics Kit Work?
This kit comes with four Hydrogen Peroxide applicators, which should be enough for 48 applications, so about 3 full 15 day treatments.
The way the kit works is that the Hydrogen Peroxide breaks down into O2 and water, which oxidize the carbon bonds of the stain molecules in your tooth enamel.
In terms of strength, 6% Hydrogen Peroxide is equivalent to 18% Carbamide Peroxide so you are getting a strong teeth whitening solution here. And by using 6% Hydrogen Peroxide, instead of the commonly used Carbamide Peroxide this kit is able to work up to 4X faster than other treatments, and therefore does not require the wearer to use the kit for longer than 30 minutes at a time.
If you purchase the Deluxe kit, you also get an 18% Carbamide Peroxide pen, which you can use to apply to specific areas, and to top up any previous treatment without having to wear the mouth trays (during a maximum of 30 minutes).
Click here to see how hydrogen peroxide compares to carbamide peroxide.
How Does The Mint Cosmetics Kit Compare To Other Products In The Market?
There are a few teeth whitening kits on the market, so how does this kit compare?
Well the first thing you will notice when receiving your kit, is that Mind Cosmetics have paid a lot of attention to the little details:
You get a smart looking cosmetics type box containing all the bits
You get a spare mouth tray in case you break or lose one!
You also get a short instructional DVD and colour mini booklet with instructions
You get a teeth whitening pen to apply solution to specific problem areas post treatment
These are nice touches, which are usually not included in cheaper kits.
The formulation is also unique, whilst many teeth whitening kits use Carbamide Peroxide, Mint Cosmetics have chosen to use 6% Hydrogen Peroxide which is equivalent to 18% Carbamide Peroxide.
Mint Cosmetics recommend one to two 40 minute applications a day for 7-10 days for your teeth to be up to 6-8 shades lighter.
Compared to something like Smile4You, you are looking at longer applications (40 minutes twice a day compared to 30 minutes daily), but you could get whiter teeth in a few days less.
In terms of price, this is more expensive than some kits, but is still competitive (especially compared to dentist treatments), and of much better quality than some of the cheaper non branded (and potentially dangerous) kits on the market.
The Verdict
If you have not been able to get lasting results with traditional Carbamide Peroxide teeth whitening kits, or are looking for a premium kit than look no further than the Mint Cosmetics teeth whitening kit. It is much more affordable than a dentist treatment, and you get everything you need for a dazzling smile with a money back guarantee in case you don't get results.
Where To Buy Mint Cosmetics?
The best place to buy your Mint Cosmetics Kit, is direct at the Mint Cosmetics Website here.
Update: Click here for the latest special offers.
---