New European Regulations to be introduced for Teeth Whitening Products
Published:October 27th, 2011
New European regulations over teeth whitening are waiting for approval, and if they come into force they will mean stricter regulations on concentrations of hydrogen peroxide in teeth whitening products. The regulations were put forward at a meeting of the European Commission's Council and were based on recommendations by the EU's Scientific Committee on Consumer Products in 2007.
The amendments to current regulations would mean only home whitening kits containing the lowest concentrations of hydrogen peroxide would be available over the counter, while anyone wanting to use stronger products would have to see their dentist first. This news has been welcomed by dental associations, including the British Dental Association who has been lobbying for these changes for the past four years. If they are approved the new regulations would mean only products containing less than 0.1% of hydrogen peroxide would be directly available to customers, while whitening products containing more than this percentage would only be available after first visiting a dentist or through a whitening treatment carried out in a dental office.
Dentists are also welcoming this news as they feel it is good for the health and safety of patients. In addition, the European Commission has asked for the Council of European Dentists for help in monitoring the use of teeth whitening products so a better picture can be built up about any possible side effects of products used throughout Europe. The new regulations are also likely to please the Trading Standards Officers who will finally have clear guidelines over who should be supplying whitening products. At the moment all teeth whitening products in Europe have to contain less than 6% hydrogen peroxide, and products containing more than this percentage are illegal for use.
If you are intending to use a home whitening product for the first time, then choose one which has a lower concentration, at least until you get used to using the product. Although side-effects from home bleaching kits aren't particularly common, there are some simple safety tips to follow before embarking on a teeth whitening regime.
The most important thing is to see your dentist first, and to have a regular examination and professional cleaning. This will enable your dentist to detect any cavities as these must be filled before teeth whitening, and to check for any signs of gum disease. Gum disease affects most of the population at some point during their lifetime, so if your gums are inflamed its best to postpone any teeth bleaching until the problem has been resolved as hydrogen peroxide can often irritate delicate gum tissue. Professional cleaning will enable your hygienist to remove all the tartar which builds up around the gum line. This not only irritates the gums, but also makes the teeth appear darker. Your hygienist will polish your teeth, removing surface stains, helping them appear a little whiter.
Once you have a clean bill of health from your dentist then make sure you follow instructions included in your home whitening kit to the letter. If you experience any discomfort or sensitivity after using a whitening product then discontinue its use at once and seek advice from your dentist. This is likely to be far less of an issue if your mouth is healthy. And finally, be realistic about teeth bleaching, and don't over use the product.
About the author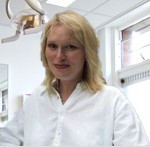 Alison, is a UK born and educated dental professional with over 25 years experience.
---