Top 10 Foods to Avoid for Whiter Teeth
Published:March 22nd, 2012
Everyone wants to have a nice white healthy smile, as it can make you appear more youthful, and is a huge confidence booster. While teeth whitening is generally very safe, provided it is carried out correctly, teeth will eventually darken up again, and this is simply a fact of life.
However you can make the effects of teeth bleaching lasts longer by avoiding certain foods and drinks that are well known for staining teeth. Avoiding these foods and drinks, or at least only having them in moderation really can help your gleaming white smile stay that way for longer.
1.    Coffee. No one is surprised to see this one on the list, as it's well known for staining teeth. The reason for this is because your tooth surfaces are slightly porous, and they will absorb any foods or liquids. Obviously something this dark coloured is going to stain. If you can't give it up then dilute its effects by adding plenty of milk or cream and you'll be boosting your calcium content.
2.    Tea. Drinking tea isn't any better, as it's full of tannins. If you want a cup of tea then choose white or green tea which is full of antioxidants, and won't stain your teeth so much. Avoid fruit teas as these are often quite acidic and will stain.
3.    Red wine. A glass or two of red wine may be good for you, but it's not so great for your smile. If you have ever stuck out your tongue after drinking a glass of Shiraz or any full-bodied red then you'll know why.
4.    White wine. You might think you're safe drinking white wine, but it's very acidic and can harm your teeth. If you want glass of white wine tried as a spritzer, or rents your mouth with water afterwards.
5.    Fizzy drinks. Fizzy drinks are bad for your teeth, even the diet ones. Darker coloured fizzy drinks are worse, but all tend to contain phosphoric and citric acids which weaken the tooth enamel. If you want one then try to use a drinking straw so it doesn't come into contact with your teeth so much.
6.    Fruit juices. Fruit juices, while being healthy often contain a lot of acid which can eat away at your tooth enamel, and darker coloured fruit juices are well-known to stain teeth. If you want a glass of juice then try diluting it to make it into a spritzer, or better still eat a light coloured piece of fruit such as an apple.
7.    Balsamic vinegar. This might seem an unlikely one, but more are more of us are choosing to dip our bread in a bit of olive oil and balsamic, but unfortunately yummy balsamic can stain teeth. However if used on salads it might not be quite so bad, as apparently lettuce can form a film over the teeth which act as a barrier. Unfortunately lettuce in between the teeth isn't particularly attractive!
8.    Tomato-based sauces. Tomato-based sauces might be healthy and delicious, but they will stain your teeth. One way to mitigate the effect is to eat plenty of vegetables such as broccoli or spinach with them, as these help to protect the teeth.
9.    Blueberries. Blueberries are a well-known superfood as they are chock-full of antioxidants. But that lovely deep colour will stain your teeth. They're still worth eating. Just try to rinse your mouth with water afterwards.
10.    Curry. Who doesn't love a Friday night Curry? However if you've ever spilled any on your carpet or clothes, you'll know how hard it is to get the stain out. Exactly the same applies to your teeth.
About the author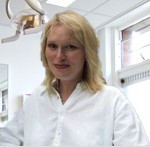 Alison, is a UK born and educated dental professional with over 25 years experience.
---