Rembrandt Whitening Strips Review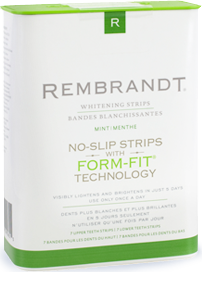 Rembrant's Whitening Strips are very similar to competitor's Crest Whitestrips. Both use thin strips that "mold" around the bottom and top teeth. However, Rembrant features a better strip design which curves for a tighter fit. The manufacturers refer to this as FORMFIT™ technology. The Rembrandt Whitening Strips do well at what they were designed for, which is a minor whitening effect on the six posterior and anterior teeth covered by the strips.
Using Rembrandt Whitening Strips
-You receive 20 individually wrapped strips: 10 for the bottom row of teeth, and 10 for the top
-The strips are attached to a film type material made of plastic, which acts as a "backing liner". You then peel them from this material, align the strip with their gumline, and then fold the bottom part of the strip under the teeth to keep it in place.
-The strips are applied for only 30 minutes each day, for a total of five days.
The bottom strips are shorter than the top strips. Despite the extra length of the top strip, it only fully covered 6 teeth in testing, and half of the fourth tooth after the incisor (the 1st bicuspids). All of the back teeth beyond these first 6 were visible, making it a bit of a disappointment that more teeth weren't covered by the strip.
The Packaging
The package this product came in prior to 2006 looked unprofessional and very amateur – sitting next to a Crest package on a shelf, it couldn't compare at all. In the last few years Rembrandt has done a great job of redesigning the packaging for all products, including this one. The current packages for Rembrant Whitening Strips look professional, sleek, and encouraging.
The Verdict?
It was difficult to tell if the whitening affect was happening during the initial four treatments, but after the 6th or 7th try, the tester's teeth began to appear to be lighter and whiter. Although the tester's teeth were definitely whiter, the results were not overly impressive. Nonetheless, we still recommend this product for minor tooth whitening needs. Remember to purchase the strips packaging in the square box, labeled with the term "Advanced Whitening Strips" as these have a higher concentration of hydrogen peroxide. We don't recommend purchasing the Rembrant Mint Whitening strips, which feature a curved package, as they are weaker.
With Pro teeth whitening kits such as the Dental White and Dr Collins providing Dentist results as similar prices, we would recommend against Rembrandt's range if you are looking for serious teeth whitening at a good price. Click here to find out more about the Rembrandt range at the official www.rembrandt.com website.
Check out our reviews of Dental White and Dr Collins teeth whitening kits.
---