Crest Whitestrips Review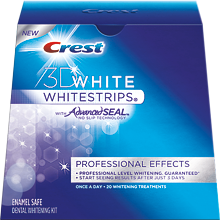 If you have ever heard of Crest Whitestrips Premium Plus, you may have heard of Crest Whitestrips Pro Effects. It is one of the newest products in the teeth whitening strip line, and it is pretty much the same as Crest Whitestrips Premium Plus. You may be wondering how this is even possible. In all reality, it is simply a different version of Crest Whitestrips Premium Plus. It has the same percentage of bleaching concentration, and the ingredients are the same. What makes crest Whitestrips Premium Plus and Crest Whitestrips Pro Effects better is the fact that they have ten percent hydrogen peroxide bleaching concentration.
Today we will be reviewing Crest Whitestrips Pro Effects, the top of the line product from Crest.
The Packaging
Even though Crest Whitestrips Pro Effects is the same as Crest Whitestrips Premium Plus, there is no doubt that they packaging is slightly better. As you may have already noticed, Premium Plus Whitestrips are loosely packaged in a cardboard box. Can you imagine how Pro Effects makes things easier by being packaged in a blue container? In addition, Crest Whitestrips Pro effects come with a small mirror, which is extremely convenient for many people who are constantly busy. Inside the container, you can find twenty strips for your upper teeth and twenty strips for your lower teeth. If you are worried about cleanliness, the strips are in an individual plastic container.
Using Crest Whitestrips Pro Effects
Like the original Premium Plus, the Crest Whitestrips Pro Effects directions are quite simple. It seems as if the creators of Whitestrips have made this product with you in mind. Each of the strips have been labeled and color-coded for your convenience. Because of this, you can easily figure out where the strips are meant to go in your mouth. As far as the directions go, you are advised to wear the set of strips for thirty minutes. To get the full effect, you are told to wear the strips twice a day for ten days. You can be lenient with this. You can wear the strips at any time of the day, and you can do almost anything while you are wearing them. However, you are told that you cannot eat, drink, or smoke while you are wearing Crest Whitestrips Pro Effects.
Possible Discomfort, Sensitivity, and Pain
Although Crest Whitestrips Pro Effects is an amazing product, there is a small risk of feeling pain and discomfort. However, the pain is not unbearable. For example, many people have reported feeling sharp pains after the strips begin to move around in your mouth. This may be a result of the bleaching gel encountering your gums. Additionally, as you try to take out the strips, the gel may be exposed to your fingers. If you do not immediately wash your hands, you may feel a sharp sting of pain.
Whitening Factor
While considering the effectiveness of this product, it is important to take into account the price. Since Crest Whitestrips Pro Effects is not as expensive as professional teeth whitening services, it makes sense that the product will not work just as well. Many say the product's whitening effect will not last for eighteen months. This may be especially true for those who have badly stained teeth. Since the strips do not cover all of the teeth, it is safe to say the strips will not do a good job of whitening all of your teeth on a professional level.
The Verdict?
Well, Crest Whitestrips are better than whitening toothpastes (which is a given) but falls short when compared to other teeth whitening kits such as the Dental White or Dr Collins kits. Crest use a weaker ten percent hydrogen peroxide bleaching concentration, which combined with a non customised mouth tray means you get less coverage (ie only your front teeth will really get the product) and less effective bleaching (as Dentists usually use 16-23% formulas). Click here to go to the official Crest website to find out more.
Im my opinion, if you want professional teeth whitening, you are better off checking out our Dental White by Smile review here, or visiting the official site there. Otherwise this is still much better than a whitening toothpaste.
---