Botanical White Review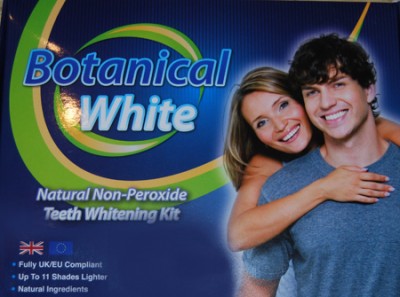 Botanical White is a brand new teeth whitening kit which launched in January 2012, featuring an innovative non-peroxide formula.
This new kit uses a unique formula featuring 40% Sodium Bicarbonate formula which it claims can make your teeth up to 11 shades lighter. This would therefore be ideal if you have sensitive teeth but still want the benefits of a professional teeth whitening solution.
What's In The Box?
Botanical White comes in different packages, and we opted to test the recommended "Ultimate teeth whitening" package.
This includes:
50ml of the Botanical White Gel
2 X warm and form customizable mouth trays
2 X aftercare gels
1 X tooth gloss
1 X Blue light accelerator
1 Tooth shade guide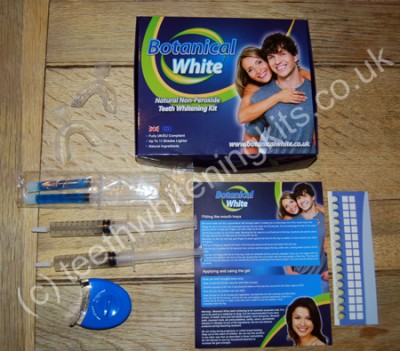 This is a comprehensive teeth whitening package which includes everything you need to whiten your teeth plus a few extras:
The aftercare gel provided use a calcium/phosphate fluoride solution which allows the tooth enamel to actively remineralise itself. Botanical white recommend using the aftercare gel once a week during the treatment to strengthen teeth.
The blue light activates the sodium bicarbonate, and helps accelerate the whitening process.
The tooth gloss can be used to make your teeth appear brighter, by coating them with a shiny and polished gloss gel.
The tooth shade guide lets you compare your teeth colour and monitor your progress.
How does Botanical White Work?
The most popular and effective teeth whitening agent used in the dental industry is Carbamide Peroxide or Hydrogen Peroxide due to their ability to lift off stains from teeth.
But these two agents are high strength, and in some cases are not recommended to those with sensitive teeth.
Botanical White aims to provide a peroxide free alternative, which is suitable for all – even those with sensitive teeth.
Botanical White's formula takes advantage of the following natural ingredients:
40% Sodium Bicarbonate
Sodium Bicarbonate, (also known as baking soda or NaHCO3) is clinically proven to help whiten teeth (http://www.ncbi.nlm.nih.gov/pubmed/10518866)  . This agent is found naturally in mineral springs, and works by dissolving dulling plaque and deep stains which are embedded in the tooth surface.
The advantage of Sodium Bicarbonate is that it works on stains on a molecular level, targeting darker yellow / brown stains and making these lighter.
Sodium Bicarbonate also works as an antiseptic to help prevent infections, and neutralises the production of acid in the mouth.
Sodium Fluoride
Sodium Fluoride is a mineral compound which is renowned for its ability to help prevent decay and strengthen tooth enamel. Fluoride is so effective, that the British Dental Association have stated that it can help reduce tooth decay by up to 60%.
Punica Granatum (Pomegranate) seed extract
Pomegranate seeds have been found to contain anti-bacterial effects which can help keep teeth and gums healthy.
Aloe Barbadensis Leaf Juice
Also known as Aloe Vera, this plant based extract has been found to have anti-bacterial properties which can help keep gums and teeth healthy.
Chamomile Extract
This flower extract has anti-inflamatory and antimicrobial properties which can help keep teeth and gums healthy.
Ergocalciferol (Vitamin D)
This naturally occurring Vitamin has been found by the New Jersey Dental School to help fight bacterial infections which are responsible for gingivitis and tooth loss.
How to use Botanical White?
We found the Botanical White kit easy to use, and the documentation provided was clear.
Step 1: First you need to customise the supplied mouth trays. (do this once only)

This requires a pan filled with just boiled water. You then place one of the mouth trays in the hot water for 25 seconds, and then take out and place on your top teeth.
You then bite down on the tray and use your fingers to press against the front of the tray.
Whilst doing this you push your tongue up against the back of the tray and suck the air out. Keep the tray in your mouth for 30 seconds so that it moulds to your mouth.
Then you put the tray in cold running water to set to a firm shape You then repeat this for the lower teeth.
Step 2: Brush your teeth thoroughly
Step 3: Apply a thin line of the white gel in each tray
Step 4: Place the trays in your mouth and turn on the blue light
Step 5: Wear the tray for 30 minutes per application
Botanical White recommend a using the trays for 30 minutes daily over 14 days.
Then once a week apply a thin line of re-mineralisation gel in the mouth trays and keep in your mouth for 30 minutes.
You can use the tooth gloss daily, or for special occasions.
Is Botanical White Safe to Use?
Botanical White uses a 100% natural formulation, which gently whitens teeth without having to rely on dentist grade Carbamide Peroxide or Hydrogen Peroxyde. This new formula is safe to use, and meets all the current and planned EU safety regulations concerning teeth whitening treatments.
But is it effective? Lets find out…
Results
We are currently testing Botanical White and will be posting our results soon.
In the mean time, we have asked Botanical White to provide us with some before and after photos from some of their customers which we have included below. The results look promising, especially for a non-peroxide teeth whitening solution.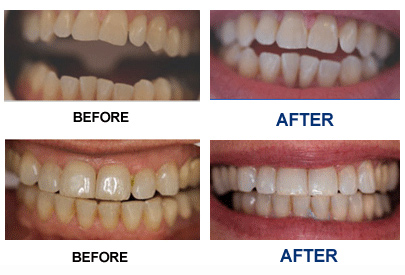 The Verdict
From our initial research, Botanical White appears to be an effective teeth whitening kit, which provides some impressive results without needing to use dentist grade peroxide based agents. This means this kit is ideal for those with more sensitive teeth, who still want to be able to get that confident smile.
As we are currently testing this treatment, we will update our review once the results are in!
Where To Buy Botanical White?
The best place to buy Botanical White is direct at the official www.botanicalwhite.com website here.
Check out the latest discounts here.
---