Aquafresh White Trays Review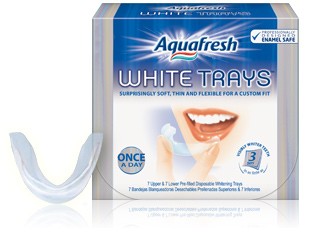 The new Aquafresh White Trays is the latest teeth whitening product by Aquasfresh, hot on the heels of similar over the counter home whitening kits like the Crest Whitestrips and the Rembrandt line.
The Aquafresh are easy-to-use and feature flexible disposable trays treated with a safe enamel whitening gel, that fit comfortably and snugly over upper and lower teeth. The bleaching gel, which is 10% Hydrogen Peroxide which is lower than the whiteners used by dentists (usually 16-23%), which puts this product in the low strength, consumer whitening products.
What does the Aquafresh White Trays package contain?
Each purchase contains soft, flexible, pre-filled trays for 7 days of whitening treatment. The trays were designed by cosmetic dentists for safety, comfort, ease of use, improved fit and are sized differently for upper and lower teeth.
Like the Crest and Rembrandt lines, you cannot customise the mouth trays to your teeth and gum line, which will mean not all teeth will equally be exposed to the whitening gel, and you might expose your gums to the gel too if your mouth doesn't fit the size provided.
Do Aquafresh White Trays work?
Yes, and you will likely see immediate results in as little as 3 days. Using Aquafresh White Trays for just 45 minutes a day will provide a an improvement of a couple of shades. The results are far more noticeable than using whitening strips because the gel-filled trays are held more securely in place and treat more surface enamel.
But the results are nowhere close to the whitening effect you can get through a dentist whitening treatment, or through a pro home teeth whitening kit like the Dental White or Dr Collins which feature 16%+ Hydrogen Peroxide.
What are the disadvantages of Aquafresh White Trays?
The disadvantage is that the whitening trays are not an exact fit for most people–after all, they are mass-marketed to fit the "average mouth." Obviously, a custom mold tray from your dentist or from a kit such as Dental White or Dr Collins will fit perfectly, cover all teeth, and alleviate any discomfort.
Using Aquafresh White Trays Safely
Whether at the dentist or at home, using teeth whitening trays will often irritate sensitive gums. This is the result of hydrogen peroxide in the bleaching gel coming into contact with exposed tissue. However, there are several measures you can take to prevent the bleaching gel from irritating your gums.
First, do not brush your teeth before applying the trays. Brushing often causes tiny abrasions in the gums which the bleaching gel may come into contact with.
Secondly, you may want to apply Vaseline to your gums before whitening, in order to provide a temporary barrier between gums and gel. Then, after setting the trays in place, wipe away excess whitening gel with a soft cloth. After the 45-minute treatment, rinse your mouth repeatedly with water before brushing. Any discomfort is temporary and may be alleviated by breaking open Vitamin E capsules and smearing the gel onto the affected gum area.
The Verdict?
There are the tremendous savings to be realized by using the new state-of-the-art Aquafresh White Trays system. In addition to the savings, there is convenience, since the brief 45 minute treatment can be applied at home, any time, night or day. These White Trays are better than White Strips from Crest and Rembrandt due to the better mouth trays, which offer better teeth coverage. But the trays are not customisable, so you don't get the most comfortable fit, or the best coverage.
At that price range, you would be better opting for a semi pro teeth whitening kit with a higher Hydrogen Peroxide level and custom mouth trays. A product such as Dental White or Dr Collins which are in use by Dentists will not only whiten your teeth more (up to 11 shades more), but the treatments are usually quicker, and last longer.
Click here for the official Aquafresh website and make sure to read our review of Dental White and Dr Collins teeth whitening kits.
---