What is Hydrogen Peroxide Teeth Whitening & How Does It Work?
Published:February 2nd, 2012
Hydrogen peroxide solution is commonly used to whitening teeth and is a cosmetic dental procedure. There are a variety of methods for whitening teeth in this way. The two most common ways of using hydrogen peroxide are:
Bleaching Trays at Home
The most traditional way of whitening teeth is to use bleaching trays at home. These use a carbamide peroxide gel which reacts with water forming hydrogen peroxide. Provided it is carried out on a healthy mouth it's a very safe and gentle procedure as carbamide peroxide gel has only around a third of the strength of hydrogen peroxide. Bleaching trays are also a very cost-effective way of whitening teeth with the trays typically staying in for around 20 minutes or so. Whitening your teeth in this way makes it easy to control the degree of bleaching achieved as the colour changes gradually over the course of one of two weeks. It is really important to use trays that are well fitting to ensure the gel is kept within the tray, minimising the risk to the delicate gum tissues.
Hydrogen Peroxide Treatments at Your Dental Surgery
Hydrogen peroxide is also used in whitening treatments and your dental surgery, and is most commonly used in conjunction with light which accelerates the process. It depends on the type of treatment as to which type of light is used, but the energy act is to excite the peroxide molecules, enhancing their effect. During this treatment your gums will be covered up with a special barrier agent before the hydrogen peroxide whitening gel is applied. It's then exposed to the light for about 15 minutes or so, depending on the degree of bleaching required. The great thing about this type of treatment is that it can be carried out in one single visit and the results can be quite dramatic. However getting your teeth bleached in this way it does have its drawbacks. Although the initial results may be quite astounding, some of the initial colour change can be lost within as little as one week. This is because part of the colour change is down to the teeth becoming dehydrated due to the treatment, and as they rehydrate the colour will return a little. Dehydrated teeth can also be more sensitive, although most people find this purely temporary with symptoms disappearing within eight few days.
Do's and Don'ts for Using Hydrogen Peroxide
If you have sensitive teeth or your gums have receded then you should definitely consult your dentist before using teeth whitening products containing hydrogen peroxide. It's also important to remember that overexposure to bleaching products could damage tooth enamel. Only low concentrations of hydrogen peroxide teeth whitening products are recommended, especially if you have never bleached your teeth before.
It's currently illegal for anyone to supply teeth whitening products which contain or will release more than 0.1% of hydrogen peroxide. New legislation may shortly come into force which will allow products containing more than 0.1% but less than 6% of hydrogen peroxide to be supplied to patients who have been examined by a dentist. It will also be necessary for their first bleaching treatment to be performed by a dentist or by someone under the direct supervision, but as yet this hasn't become law.
About the author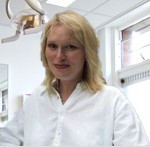 Alison, is a UK born and educated dental professional with over 25 years experience.
---