Teeth Whitening Dangers
Published:July 5th, 2010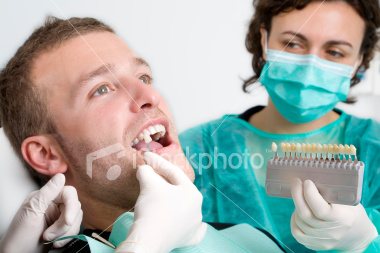 Teeth whitening dangers are related to over use of products that contain bleaching compounds or laser treatments. Whitening products are not dangerous for your teeth, but using them too often may trigger problems.
You should never use bleach as a whitening mouthwash as this might expose you to acid erosion on the teeth and gum. Bleaching does not cause permanent damage to either teeth or gums if you use it once or twice a year. But using such chemicals as part of the brushing routine is not safe.
Teeth are exposed to stains and teeth whitening is not permanent. But over use of teeth whitening kits at home will not help your teeth stay white and healthy.
If you do not have high hopes about the shade of white your teeth should always have and do not use strong chemicals often, teeth whitening products are safe to use.
Even if we have a healthy diet, our teeth have a tendency to become yellow and coffee, tea or red wine accelerate this process. Teeth whitening products help your teeth stay white but abusing these products may cause damage to your teeth.
If you use teeth whitening over the counter products, read the instructions carefully and follow them rigorously. For example, make sure you use trays that fit correctly and do not leave them longer that it is recommended in the instructions.
Be careful with the chemicals used in the whitening trays, they should not spill out into your mouth as they may burn tissues of your gums. Also, avoid swallowing these substances as this may result in nausea, vomiting or dizziness.
The nerve endings can be damaged if you use bleaching agents in excess. This way your teeth become very sensitive to cold and hot substances.
---