How To Get Over Your Fear of the Dentist
Published:April 25th, 2012
Do you find yourself putting off regular checkups, and making excuses not to visit the dentist unless you are in terrible pain? If so it's possible you may have a phobia of going to the dentist. It's much more common than you think, and it's estimated around 5 to 10% of the population will avoid visiting the dentist due to this fear, but it's estimated as many as 20% might avoid visiting the dentist altogether, only going when they can't stand the pain any longer.
Quite often this fear is related to bad experiences in the dentist chair which puts people off going back. Another problem is the lack of control felt by many of us while we are being treated. When receiving treatment you're put in a position where it's difficult to move or speak, and you're often lying back. Some dentists fail to put patients at their ease as they simply think everyone understands what is going on, and everyone has similar pain thresholds.
Finding a sympathetic dentist
This doesn't have to be the case as there are a lot of dentists who do understand people's fears about visiting them, and who take a lot of extra care ensuring they're comfortable and any pain is well-managed. If you are worried about going to dentist then try to talk to your local surgery about your fears; you'll probably find them a lot more sympathetic than you think. Unless they know you are worried they can't take action to make you more comfortable. If they don't react well to your questions then look elsewhere for another dentist, as it's important to be taken seriously.
There are certain dentists who go out of their way to create a non-threatening atmosphere, and their surgeries are designed to put people at their ease. Lots of people react to the sounds, smells and sights found in dental surgeries, and surgeries which have taken care to remove these cues are a lot more calming.
Taking back control in the dental surgery
There are lots of things dentists can do to make fearful patients feel more in control. These include explaining exactly what the treatment involves, how long it's going to take, and answering any questions. They'll make sure their patient is feeling all right at regular intervals, and will ask their permission to continue. Most will give their patient some sort of cue which means they must stop treatment immediately. It can be as simple as just raising a hand.
Feeling in control can make having treatment much easier, and lots of patients find their fear of the treatment is much worse than reality. If the treatment is designed to relieve pain and discomfort, then you'll almost certainly feel a lot better very soon afterwards.
Simple techniques to make treatment easier
It can help a lot to take a relative or trusted friend with you to appointments, and some dentists will even allow them to sit with you. Another thing which can help is to take an MP3 player so you can listen to music while being treated. Simple relaxation techniques such as taking a few deep breaths can help relax you before seeing the dentist. Making sure you have discussed all the pain relief options beforehand can put your mind at ease.
Consider getting professional help for your phobia
For more serious cases of "dentist phobia" you might want to consider listening to an audio hypnotherapy session or even better visit a recommended hypno-therapist. With the latest advances in hypnotherapy and NLP, many patients can actually be cured of their phobias within as little as one session.
Have you got any other tips or ideas? Please let us know in the comments section below!
About the author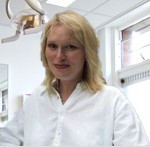 Alison, is a UK born and educated dental professional with over 25 years experience.
---