Dental Health Professionals Encouraged to Discuss Patient's Lifestyle during Visits
Published:January 18th, 2012
Dental health professionals are generally supportive of the government plan for them to discuss patient's lifestyle during visits with the aim of seeing how their oral health could be improved. This idea was first brought up in the Health and Social Care Bill which recommended all health professionals make every contact with patients count, but not everyone thought this was a good idea with lack of time being a major factor.
However the British Dental Health Foundation is hopeful these new measures could help people reconsider their lifestyle if they become more aware of how it affects their oral health. Having good oral health is not just a question of taking care of your teeth on a daily basis and visiting the dentist regularly, as it is also affected by diet, drinking habits and whether or not you smoke, and how healthy you are generally.
Common Risks to Oral Health
Numerous studies have shown consuming sugary foods and drinks can damage oral health, and most people are already aware of this. However other studies have shown that people who take good care of their general health are 40% less likely to be prone to gum infections which could go on to develop into gum disease. Yet more studies have shown that gum disease to have significant links with other major diseases including diabetes and heart disease as well as respiratory illnesses and rheumatoid arthritis.
More People Are Suffering from Oral Cancer
One disease which is unfortunately on the increase is mouth cancer, with incidences increasing by 46% since 1997. Experts think around 30,000 people could die from the disease during the next 10 years unless more is done to educate the public about the various risk factors for mouth cancer. The main risk is smoking or using any tobacco products, but the disease is also associated with heavy drinkers or people who have had problems with alcohol in the past. Mouth cancer can have very few symptoms in its early stages, but your dentist will be looking at your oral tissues and feeling the lymph nodes in your neck at every checkup. Early signs include sores which won't heal properly, changes in colour to oral tissues and unexplained swelling or thickening of tissues.
Dr Nigel Carter who is chief executive of the British Dental Health Foundation, is supporting recommendations to improve oral health across the UK. He points out that people will only change their habits if they want to, but feels that at least if they have access to relevant information then there are more able to make an informed choice saying that even something as simple as finding out a patient doesn't currently brush their teeth twice a day with fluoride toothpaste could help alleviate the need for restorative dental work later in life.
Being informed is obviously important for maintaining good overall health as well as oral health, but although private dentists may have more time to devote to educating their patients it's debatable how much time NHS dentists have to spare. However when you are sitting in the dental chair during an examination, you are something of a captive audience and more than likely cannot talk back.
About the author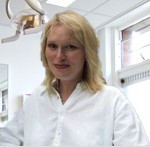 Alison, is a UK born and educated dental professional with over 25 years experience.
---